Land Angle is the angle at which the ball hits the ground
Land angle is highly correlated to height and is a large determinant in the bounce and roll of a golf shot.
Assuming all else is equal, a lower (flatter) land angle will create more bounce and roll. On "normal" fairways, 1 degree of land angle will change the bounce and roll by 1.5 to 2 yards.
It is important to consider land angle when optimizing trajectory. With the driver, a lower land angle may decrease carry but increase total distance. However, on an approach shot it is important to be able to control how much bounce and roll occurs once the ball lands. A land angle greater than 45 degrees is recommended for all approach shots. Be aware that a land angle greater than 45 degrees will be very difficult to achieve with 6-iron speeds of less than 75 mph (without losing potential carry).
---
Technical Definition: 
Land Angle – The vertical angle relative to the horizon of the golf ball's center of gravity movement when the ball has the same height as where it was launched from (resting point prior to impact).

Remark: LAND ANGLE is always presented by TrackMan as a positive value even though the ball is moving downwards at this point in time.
---
Tour Averages
PGA TOUR
Driver = 38 degrees
6 iron = 50 degrees
LPGA Tour
Driver = 37 degrees
6 iron = 46 degrees
For a full list of Tour averages, visit TrackMan PGA and LPGA Tour Averages
TrackMan Combine Averages
Male Amateur (land angle by target)
Driver = 37 degrees
180 yard shot = 40 degrees
100 yard shot = 48 degrees
60 yard shot = 44 degrees
Female Amateur (land angle by target)
Driver = 34 degrees
180 yard shot = 33 degrees
100 yard shot = 44 degrees
60 yard shot = 45 degrees
Learn more about TrackMan Combine, visit TrackMan Combine Explained
---
The standard assumption for land angle comes from the TrackMan Optimizer
For the driver, a club speed of 94 mph, attack angle of 0 degrees, and optimized carry results in a land angle of 36.6 degrees
For a 6-iron, a club speed of 80 mph and mid-trajectory results in a land angle of 43.5 degrees
For a PW, a club speed of 72 mph and mid-trajectory results in a land angle of 47.1 degrees
---
Read what our TrackMan University Masters say about Land Angle…
Ryan Johnson
Carl's Golfland, MI, US
"I look at landing angle a lot when fitting equipment. With irons, I am trying to allow for adequate stopping power. I am trying to see a landing angle of at least 40 degrees and up to 50 degrees, particularly in the long irons where most players' shots come in too shallow. For the driver, landing angle allows me to show the customer that they are sacrificing yardage due to a lack of bounce and roll. I like a number in the mid to low 30's for the driver."
Hugh Marr
Premium Golf Consulting, UK
"Landing angle is a key parameter when looking to maximize control with the irons and distance with the driver. I'm looking for a consistent landing angle of under 40 degrees with the driver. Depending on how far the player carries their irons, I'm looking for a number up to or around 50 degrees with the approach clubs. "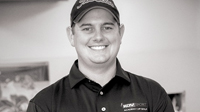 Dom DiJulia
Dom DiJulia School of Golf, US
"Monitoring landing angle in club fitting is helpful in two ways. First, when conducting a driver fitting I'm looking for a landing angle around 35 degrees for higher end club speeds and down to 30 degrees for players with slower club speeds. Second, landing angle is very helpful for making "top of the bag" decisions. This number helps me decide when a player should switch from an iron to hybrid or hybrid to high lofted fairway wood."