Tour PRO Steven Tiley recounts World Record
AN ESSAY BY TOUR PROFESSIONAL STEVEN TILEY…
It was a goal of mine, when I purchased TrackMan, to be at the top of the TrackMan Combine leaderboard by the end of the year. I am so happy to have reached that goal by October. It's been an interesting few months since I purchased my TrackMan. I would like to take a minute to describe them because it plays a part in achieving my high score the other day.
A new Combine Record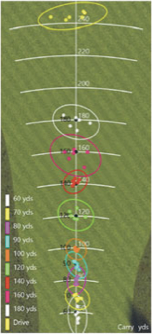 As soon as I received my TrackMan in July, my thought was it would only be beneficial practicing with the balls I use in com- petition, Pro V1x. I texted my friend who owns a driving range in the area called Stonelees Centre of Excellence. I asked if it was possible to use my Pro V1x's on the range. Luckily, the owner agreed.
During the first couple of months, I was constantly completing combines. I was getting a bit down achieving the same total score of around 89 points. I desperately wanted to break the 90 point barrier. I was slowly becoming more and more frustrated.
While taking these tests, I did however notice that the space between 85 and 100 yards was difficult! This is a huge gap to fill. I thought about how I could do it. I ordered a 56 degree Vokey wedge from Titliest shortly after. Not only did it fill the gap perfectly, 90 yards became one of my go to yardages. This also happens to be one of the combine yardages.
I worked with this new wedge for a few months and then decided to drop my 3 iron and add the wedge to make it 14! After that I decided not to do a combine for a while. Instead, I would concentrate on my own go to yardages which are 78, 93, 102, and 115 to name a few.Three of these are near combine yardages!
TrackMan Test Center
I used the Test Center application to setup specific tests to help me work on the distances that I wanted to focus on. After working on those distances for a couple months while away at tournaments and at the Stoneless range, I felt my wedge game was fast improving.
I noticed my wedge game was improving on the course, too. I found myself in contention after two rounds in both the Ukraine and Kazakhstan Challenge Tour events, but I was finding it difficult to put together four consecutive rounds.
We had a three week break from the schedule after Kazakhstan and my intention was to do a couple of combines during that time. After a couple of weeks playing and working out in the gym, I thought to take the combine before leaving for China. It would be a great way to test my skills before leaving. Also, a tweet I read a day or two earlier from Thomas Norret about his recent score prompted me to give it a go.
So…the afternoon of the combine…at first I wasn't sure I was going to even practice outdoors because the weather had just turned for the worse at home.
However, after a few shots I soon noticed even though it was quite cold and raining quite heavily at times, there wasn't really a breath of wind. I was reaching my numbers much easier and on a much more consistent basis.
I was "dialed in" right from the start. Even my 60 yard shots were good, despite this not being the best yardage for me! The only difficulty was the longer yardages were playing about a club longer.
I hit possibly three of the best drives under pressure I have ever hit!

– Steven Tiley, TrackMan owner 
The Driver was the biggest difference because it was only 50 degrees Fahrenheit and raining. The ball was only carrying 250 yards and not the usual 265! So I knew a premium had to be placed on accuracy with the driver!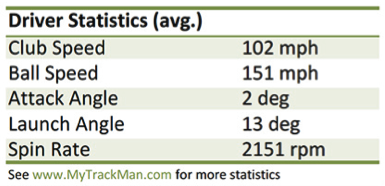 I had a different mindset this time because I was hitting my go to yardages the same as the TrackMan yardages. I decided to really, really focus on the target on every shot!
In past combines, I would not only have to get the line right but also add some "feel" to my go to yardages to get the distance correct. As we all know, "feel" can vary! So I think this was one of the biggest things I had going for me.
I started well, moving through the yardages quickly. The moment I realized how well I was doing was when I had hit my first 30 balls.
I knew from the Open Championship, when I did my first combine, I could see my score to that point and know how well I was doing half way through. At that moment, I was on pace for a 95! It was then I started to think about what was possible.
The Combine Pressure
My next two shots were bad 60 yard efforts! Because it's a majority feel shot adrenaline and nerves kicked in, but then I settled in on the 3rd shot. And did a good one!
Again, 70 was a bit hit and miss the second time round because, like the 60 yard shot, it is mainly "feel"! But then I got into my go to shots: 80, 90, 100, and 120.
Things were back on track! The last drivers were the most nervous I've been on a TrackMan Combine because at 250 carry I knew they had to be very, very straight.
Once the last drive was recorded I pressed to see my score of 92.1. I didn't know at the time it was the winning score but because it was the best I had done and there was no one else on the range I was jumping and fist pumping with joy.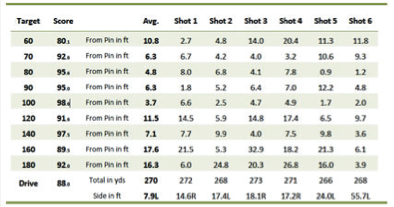 I then called a number of people on my phone, trying to explain what a TrackMan Combine was, and how I was on top of the world! I think that is about it! I was totally dialed in for 40 minutes.
The cold temp and rain with no wind helped loads. My 56 Vokey wedge was key and my Pro V1x golf balls helped as well! I think I can and will try to improve this score! Perhaps the next time it's raining! Ha ha!
Now it's up to me to stay on top! And hopefully see the results on course.
View Tiley's full TrackMan Combine report